7 ways to make a good impression when interviewing candidates
6/8/2020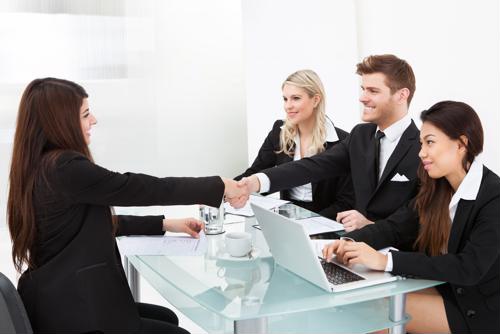 When you're trying to make your next great hire, there are many factors to consider. Not the least of them is what the interview itself will look like and, specifically, how you can impress every candidate that comes through the door.
Being able to make that solid first impression may be the difference between landing an ideal employee or having them go elsewhere, including your competitors. For that reason, consider taking the following steps:
1) Think about your first impression
The first thing a candidate experiences when they come into the building will be a big factor here, according to The Undercover Recruiter. For instance, if they have to wait a long time to even speak with the receptionist, that may be seen as a negative, and the same is true if they're kept waiting for the interview to start, not offered water or coffee, etc.
2) Make sure the meeting space is welcoming
Likewise, if candidates have to wait in places where there's nowhere to sit down, the seating is uncomfortable, there's a lot of noise and traffic or other issues, that's also not a positive, The Undercover Recruiter said. They are likely trying to get into the right head space for the interview and need to be comfortable; make sure they're treated accordingly.
3) Do your homework
While you're likely dealing with a lot of candidates for any given job opening, make sure you know each one's qualifications inside and out, The Undercover Recruiter added. The last thing you want to do is mix up Candidate A and Candidate B, because that shows you aren't prepared as an interviewer.
4) Get their potential coworkers involved in the interview process
A nice touch in any hiring process is to have the prospective members of a candidate's team meet with them, even if it's just briefly, according to Jobvite. That way, they can all get a feel for each other, and those current workers can explain why your company is a great place to work.
5) Establish strong communication guidelines
Just as you would not want a candidate to leave you hanging on an email or voicemail, you shouldn't do that to them, either, Jobvite advised. As a result, you need to prioritize communications with everyone you meet with, and make sure you get back to them all in a timely fashion.
6) Take the intimidation out of the interview
It's natural for would-be hires to feel nervous about an interview, so do whatever you can to take the nerves out of it and keep them comfortable, according to author and leadership expert Mark Murphy, writing for Forbes. Something as simple as sitting across from them without a desk between you can help put them more at ease.
7) Think of every step as part of the recruitment process
With all of the above having been said, a good impression of your company doesn't start at an interview, or end there, Murphy noted. As such, you need to make sure every communication and interaction with them is as smooth and professional as possible.