5 practices to upgrade workplace culture
12/13/2021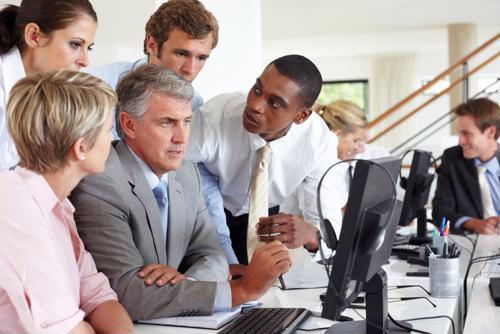 Businesses are increasingly turning their attention to workplace culture because it directly impacts how employees interact with their work and the organization. A positive, strong and clearly communicated culture is a necessity for attracting and retaining well-suited talent. This is highlighted in a 2021 study from Built In that found 46% of job seekers cite company culture as very important when looking for a job. Moreover, Bonfyre found that 58% of employees have left their job or would consider leaving as a result of negative office culture. As the labor shortage, the war for talent and demographic changes in the workforce continue, it will be valuable for companies to review their internal strategies and improve company culture moving forward.
Why is workplace culture important?
Company culture inevitably affects all facets of the business, and companies that have fostered a positive culture and workplace environment are more likely to see improved engagement, morale and productivity in their employees. Having happier and more productive employees generally leads to increased retention rates, decreased turnover and increased operational efficiency and profitability for the entire organization. A survey from Eagle Hill Consulting even found that 63% of employees believe company culture directly impacts their organization's success.
As more and more businesses examine their current corporate climate, here are 5 practices to improve your organization's workplace culture:
1. Cultivate strong employee relationships
Positive social interaction is essential in the workplace to build efficient teams, a sense of community and trust. These relationships also play a larger role in an employee's well-being than some employers may realize. Fostering strong and healthy relationships in the workplace is fundamental for engagement and productivity, as well as helping employees feel attached to the organization long-term.
2. Embrace transparency and improve communication
Employees are better able to successfully do their jobs if clear communication and organizational transparency are at the forefront of their projects. This does not only involve increasing communication between co-workers but also focusing on the content of the communication to ensure the way you are interacting is effective.
3. Encourage employee recognition and reward valuable contributions
A study from Apollo Technical reports that employee recognition was most important to 37% of workers. Recognition is becoming increasingly significant in the work sphere as unrecognized and unrewarded employees are less likely to be engaged or productive.
4. Offer autonomy and flexibility
Employees value the opportunity to work without being micromanaged, as well as on a schedule that's most effective for them. Organizational autonomy and flexibility can involve giving teams self-governing power, offering work-from-home opportunities, introducing the freedom to be creative and more.
5. Connect employees to a purpose
A powerful way businesses are enhancing their workplace culture is by connecting their employees to a purpose, which incorporates the organization's mission, strategy and values. Employers who ensure workers understand why they are there in the grand scheme of things are more likely to see higher engagement and increased productivity in employees.
Examining your current workplace culture is fundamental in determining what strategies will be most effective in improving your organization's culture moving forward. The effort required to develop a positive culture is well worth the organizational benefits you will see as a result.